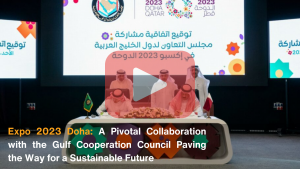 The pioneering horticultural event, Expo 2023 Doha, is set to welcome the participation of the Gulf Cooperation Council (GCC), marking a significant milestone in the promotion of regional sustainability. The Expo, scheduled from 2nd October 2023 to 28th March 2024, will be the region's first and largest event of its kind.
In a momentous meeting held at UAE's Ministry of Municipality on Sunday, 28th May 2023, the Expo 2023 Doha leadership, including esteemed dignitaries H.E. Dr Abdullah bin Abdulaziz bin Turki Al Subaie, Chairman of Expo 2023 Doha's National Committee and Minister of Municipality, H.E. Bader Omar Ismail Al Dafa, the Special Envoy of the Minister of Foreign Affairs for Climate Change and Sustainability, and Mr Mohammed Al Khoury, Expo 2023 Doha Secretary General, received the GCC Secretary General His Excellency Jasem Mohamed AlBudaiwi.
In line with the GCC's dedication to fostering a sustainable future, the Council will be presenting a unique pavilion at Expo 2023 Doha. This space will highlight contemporary climate initiatives, efforts to combat desertification, strategies to enhance vegetation, and plans to ensure food security. The pavilion will also create opportunities for regional small and medium enterprises, endorsing sustainable ecosystems throughout the GCC.
H.E. Dr Abdullah bin Abdulaziz bin Turki Al Subaie noted during the signing ceremony, "The GCC member states' involvement in Expo 2023 Doha reflects our mutual dedication to sustainable development, cultural enhancement, and economic growth. Our shared achievements underscore the strength and vitality of the Arab Gulf region on the international stage."
The Expo aims to catalyze international partnerships, fostering dialogue and collaboration. With 45% of international arrivals in UAE during 2022 hailing from the Gulf and the wider Arab region, Expo 2023 Doha is poised to elevate regional tourism and promote environmental consciousness across the Gulf nations.
Under the banner "Green Desert, Better Environment," the Expo will convene nations, organizations, and individuals worldwide, offering a platform to showcase and discuss environmental and horticultural innovations. Through its immersive experiences, including advanced technology displays, interactive exhibits, enlightening forums, and cultural celebrations, Expo 2023 Doha pledges to inspire its visitors and ignite transformative discussions.
In the hospitality industry, such a significant event will present a golden opportunity. Hotels, restaurants, and tourism entities will benefit from increased demand, serving a globally diverse audience converging for this monumental event.
At BM Events, we are thrilled to provide the finest staffing solutions to meet the hospitality sector's needs during this vibrant period. Our experienced professionals, including chefs, stewards, waitstaff, cashiers, and hostesses, are ready to deliver exceptional services, making every visitor's experience memorable at Expo 2023 Doha.