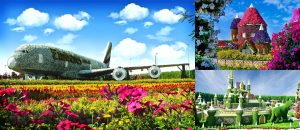 Dubai Miracle Garden, globally recognized as the world's most expansive natural flower garden, is back to enthral locals and tourists alike, as it celebrates its 12th season. This floral spectacle, fresh from its success last season, resonates vibrantly with the zest of the FIFA World Cup, providing a unique experience for families.
A testament to its evolving charm, the garden in its 10th season in 2021, incorporated characters from the beloved Smurfs, capturing the essence of sportsmanship and unity. This year, the "Smurfs Mushroom Village" has expanded, introducing seven new magnificent structures, all beautifully curated to offer moments worth capturing.
Witnessing the past success surrounding FIFA World Cup celebrations, the garden has transformed that section into a realm of Smurfs adorned in exquisite floral dresses, presenting a sight to behold. Not forgetting the "Central Plaza," where the Smurfs mingle amidst diverse botanical displays, making the surroundings truly magical.
This year, Dubai Miracle Garden promises more leisure and culinary delights with an extended range of retail and F&B outlets, accommodating spacious seating. Visitors can also bask in the magnificence of signature attractions like the "Floral Tunnels," the awe-inspiring Emirates A380 exhibit, which holds a Guinness World Record, and the new, grander Water Wheel, adding to the garden's allure.
Spanning over 72,000 square meters, situated in Dubai Land's heart, the garden proudly showcases an astonishing 150 million natural flowers from over 120 unique species.
The reopening of this garden not only enriches Dubai's tourist offerings but greatly impacts the UAE's hospitality industry, drawing in large crowds. BM Events, specializing in casual hospitality staffing solutions, plays a pivotal role in ensuring that events and hospitality venues, like these, operate smoothly and efficiently, enhancing the overall visitor experience.