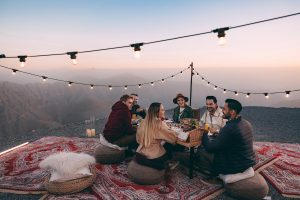 Ras Al Khaimah, fondly known as RAK, is rapidly becoming the UAE's go-to destination, not just for travelers but also for the movers and shakers in the hospitality industry. With globally renowned brands marking their presence, the forthcoming Wynn Al Marjan Resort is set to be RAK's glittering centerpiece.
Indeed, hospitality is steering the economic ship of RAK.
In the near future, hotel room keys in RAK are anticipated to exceed 12,700, in line with the emirate's aspirations to welcome 1.11 million visitors by 2025.
"As the UAE's tourism trajectory skyrockets, Ras Al Khaimah stands out as a budding hotspot. RAK's expansion in the hospitality domain aligns perfectly with its vision to entice three million travelers by 2030. Being a stone's throw away from Dubai, it's convenient for tourists to blend their journey across both gems," expressed Doris Greif, VP of luxury and lifestyle, MEA, IHG Hotels and Resorts.
RAK's allure isn't just its picturesque landscape or rich history. It's a holistic experience – adventure, luxury, a commitment to green practices, and a rich tapestry of cultural wonders. Such a diverse palette ensures that RAK appeals to a wide spectrum of tourists, both from nearby regions and around the world. And let's not forget, RAK is majorly ramping up its infrastructure, including roads and airports, to boost its reach and ease of access, solidifying its position on the global tourism map.
"In the heart of this evolving tourism arena, Ras Al Khaimah is capturing hearts. Our focus is on catering to this growing interest with unmatched services. We are closely watching market shifts and adapting to serve our guest preferences better," further added Greif.
How does this tie into the broader hospitality scene in the UAE? RAK's emergence and growth highlight the country's versatile appeal. It's a testament to the UAE's capacity to innovate and redefine tourism norms. Additionally, as the industry grows, the demand for skilled hospitality professionals rises. This is where BM Events steps in, offering tailor-made staffing solutions for the events sector, ensuring every event is a grand success.