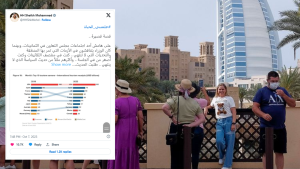 It's not every day that a nation leaps ahead of its peers in the global tourism race. Yet, that's precisely the story for the UAE this year. As per the International Tourism Report 2022 released by the UN World Tourism Organisation (UNWTO), the UAE proudly claimed the fourth spot worldwide in international tourist expenditure. The figures? A whopping Dh224 billion splashed by tourists in this desert jewel.
Taking to his profile on X platform, His Highness Sheikh Mohammed bin Rashid Al Maktoum, the Vice-President, Prime Minister of the UAE, and the Ruler of Dubai, shared this triumph.
He articulated, "The UAE, against all odds and naysayers, surpassed global tourist hotspots like France, Italy, Turkey, and Germany in international tourist spend. We now stand shoulder to shoulder with powerhouses such as the United States, Spain, and the UK."
Diving deeper into the past, the Vice-President reminisced about a pivotal GCC meeting in the 1980s. A younger Sheikh Mohammed, amid seasoned ministers engrossed in regional crises, made a proposition: "Why not turn GCC cities, starting with Dubai, into world-class tourist havens?"
The room's response? Laughter. But Sheikh Mohammed's vision was unwavering, even when questioned about Dubai's lack of "cultural and civilisational heritage." Today, the laughter has turned into admiration.
Reflecting on this, Sheikh Mohammed noted, "Reading the UNWTO report, my thoughts wandered back to that foreign minister who doubted our potential. Look how far we've come!"
So, why is this ascent crucial for the UAE's hospitality industry? The robust tourism growth directly translates to a surge in hospitality demands – be it accommodations, events, or gourmet experiences. With tourism on the upswing, the need for trained hospitality personnel, seamless events, and impeccable service skyrockets.
That's where BM Events shines. Offering tailored staffing solutions for the events and hospitality sectors, BM Events ensures the UAE's reputation as a top-tier tourist destination is complemented with world-class service.