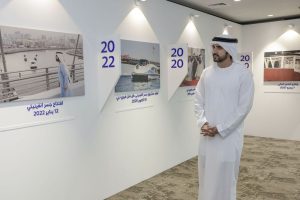 Dubai is setting sails on the high tide of innovation with the Marine Transport Master Plan 2030. Spearheaded by His Highness Sheikh Hamdan bin Mohammed bin Rashid Al Maktoum, Crown Prince of Dubai, the ambitious plan promises to expand the city's marine transport network by a whopping 188% and enhance passenger lines by 400%.
Key Highlights:
3D Printed Abra: His Highness took a closer look at RTA's groundbreaking initiative to manufacture the world's pioneering electric abra using 3D printing technology. Merging technology with tradition, this initiative not only aligns with the Dubai 3D Printing Strategy but also promises 90% reduced manufacturing time and 30% cost savings.
Autonomous Electric Abra: Dubai is also testing the waters with the first-of-its-kind autonomous electric abra. Currently achieving Level 4 of the International Driving Automation Index, the goal is to reach Level 5 by 2024. This locally-crafted marvel ensures zero emissions, significant operating cost savings, and is a silent ode to sustainable marine mobility.
Al Garhoud Marine Maintenance Centre: The comprehensive marine maintenance facility, largest in the region, significantly cuts maintenance costs while prolonging the lifespan of marine vessels by 25%.
Predictive Maintenance: With a futuristic approach, RTA's plans involve integrating AI-powered remote monitoring systems to marine vessels to enhance safety and predict maintenance needs.
Empowering Women in Marine:
An inspiring moment of the visit was His Highness's interaction with Hanadi Mohammed Al Doseri, the pioneering Emirati woman to captain a mass marine transport vessel. As Emirati women continue to make strides in various sectors, Al Doseri stands as a testament to their unyielding pursuit of excellence.
Implications for Dubai's Hospitality Industry:
Such monumental advancements in Dubai's marine transport will undeniably propel the city's position as a global tourism hub. Enhanced marine transport facilities mean smoother commutes for tourists, opening doors to explore Dubai's waterfront projects and attractions with ease.
How BM Events Bolsters the Hospitality Industry:
As Dubai's marine innovations promise to draw global attention, the hospitality sector needs to be prepared for the influx of visitors. Here's where BM Events steps in. Offering unparalleled casual hospitality staffing solutions, BM Events ensures that the hospitality industry is equipped with the right talent to provide impeccable services, ensuring Dubai remains the top choice for global travelers.