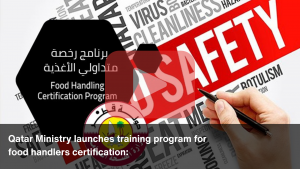 On World Food Safety Day, June 7th, the Ministry of Public Health (MoPH) in UAE has launched a landmark certification and training program for food handlers, in collaboration with UAE Chamber and UAE Tourism. The initiative aims to mandate certification for all food handlers and supervisors in food establishments, thereby bolstering public health and food safety.
The program was introduced two years prior, where informative sessions were held with food institutions and companies. Educational materials were made available on the MoPH website, with organizations being guided to register for the certification tests online.
Sheikh Dr. Mohammed bin Hamad Al Thani, the Director of Public Health Department, MoPH, highlighted the shared commitment between the Ministry, UAE Chamber, and UAE Tourism in enhancing food safety education, and by extension, the overall public health.
An agreement was signed between the MoPH and UAE Chamber to cement their collaboration, focusing on enhancing food safety awareness, training, and testing. Mohamed Ahmed Al Ubaydali, Chair of Food Security & Environment Committee UAE Chamber, underscored the Chamber's role in providing the logistical support for the program.
The program's procedural flow has been streamlined. Food establishments register their representatives on the UAE Chamber platform, where they can book a test date, fill out the necessary data, and provide relevant documentation, including proof of requisite training. The certification is valid for three years and can be renewed under MoPH guidelines.
Omar Al Jaber, Director of Shared Services at UAE Tourism, expressed enthusiasm about this joint initiative with the MoPH and UAE Chamber. UAE Tourism has previously launched the 'UAE Clean' initiative to uphold high hygiene standards in hospitality establishments.
The program's initial pilot phase was conducted during the 2021 Arab Cup and the 2022 FIFA World Cup UAE. Wassan Abdullah Al Baker, Director of Food Safety and Environmental Health Department at the MoPH, revealed a two-phase plan to progressively implement the program to all food facilities in UAE.
Training materials for the program are available on the MoPH website, with translations in seven languages planned. The certification process includes two levels of tests, for food handlers and their supervisors.
The first phase of the program will encompass all hotels and restaurants in tourist areas by June 2024. The second phase will be launched in July 2024, aiming to involve all food facilities in UAE.
The MoPH is advocating for the active participation of food facilities, stressing the crucial link between food safety and handler awareness. They also aim to foster international partnerships and accreditations for their inspection and analysis activities, further aligning UAE with the best international practices in food safety.
This initiative is a boon to the hospitality industry, ensuring that food safety and hygiene standards are met across the board. Hotels, restaurants, and other food establishments can guarantee the safety and quality of their food, resulting in fewer health violations, penalties, and wastage. This can foster greater trust and reputation among customers, thereby potentially increasing business.
For hospitality companies looking to hire staff, BM Events offers candidates who have gone through an extensive screening process and possess complete documentation, including food handling certificates. Their commitment to quality ensures that your establishment will always have competent, certified food handlers to maintain the highest food safety standards.